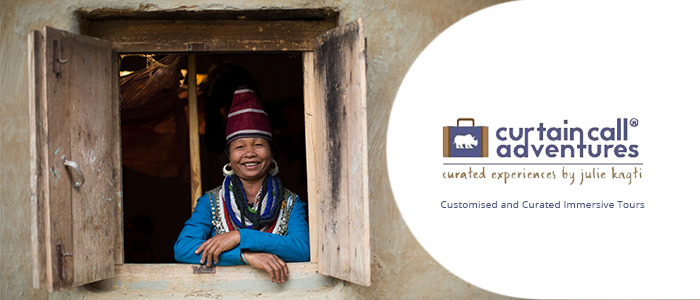 I started curating specialized tours and customized holidays in 2017 to the Northeast of India. The biggest delight for me has been the appreciation of children travelling along with their families to experience rustic villages and scenic outdoors, a far cry from their digital world.
By highlighting it's tribal traditions, local talents, textile and food through long drives and moderate walks Curtain Call Adventures promotes the rural economy of the region.
Each year I include more sustainable trips that enrich our clients' travel experience.
This year onwards we are partnering with local experts to introduce a few tours outside the northeast that celebrate traditions and unique lifestyle practices.
Thank you for being a part of the Curtain Call Family and I hope to see some of you on our upcoming curated group tours, which are detailed below, otherwise get in touch and I can curate a travel itinerary just for you.

Our Upcoming Tours for Spring 2023
Kerala Theyyam Tour
(9th – 12th March)
For our first tour outside of the Northeast we're heading to Kerala to experience Theyyam. Theyyam consists of several thousand-year-old traditions, rituals and customs. The people of these districts consider Theyyam itself as a channel to a God and they thus seek blessings from Theyyam. Often performed nocturnally, in sacred groves, Theyyams are considered to be the demigods of the region. We will take you through a journey shedding insight into the various aspects of this performance that make this folklore an experience of a lifetime. Based in Kannur, we will sample traditional local cuisine, fresh fish and seafood is plentiful. The local Mappila community are known for their delicious biryanis, while the Bhramin cuisine of Kerala has distinctive vegetarian flavours.
Birding Tour of Assam and West Arunachal Pradesh
(24th April – 1st May)
The Northeast is home to an enviable number of avian species both migratory and permanent residents across its many national parks. Our upcoming 8 night tour will visit birdwatchers' paradise – Eaglenest Wildlife Sanctuary and Sela Pass in Arunachal Pradesh and Nameri National Park in Assam. Eaglenest hosts over 500 species of birds. Nameri National Park is home to over 350 species of birds. Of the seven national parks in Assam, Nameri is the only one that allows trekking into the forest making it ideal for bird-watching. Sela Pass, at 4170 meters, offers breathtaking views and is home to the rare Blood Pheasant.
Pre-monsoon Meghalaya
(29th April – 4th May)
Join us for a specially curated journey through this gem of the North East. Crafted to explore some off-the-beaten track destination while making sure the highlights of the state aren't missed. Hike less visited Living Root Bridges and meet Morningstar, the young and dynamic founder of the Living Bridges Foundation. Visit a Sacred Forest, wander through pretty local villages, catch views of some awe-inspiring waterfalls and mountain vistas, wander through local markets and hear young musicians play live music. As always the food is a highlight, and with a maximum group size of 8, it's a great chance to meet and make new friends with like-minded travelers. ⁠
Connect with Curtain Calls Adventures