I was delighted when Anushree called and asked me to plan a 5 day holiday for her family. The brief was – "They love outdoor activities like trekking, want to experience a new culture, eat authentic local food and had a budget in mind" I suggested Manipur  and got in touch with our local partners and guide there to customise it for Anushree.
Below is the 5 day travelogue the Anushree has shared on her trip –
" Growing up, I remember my geography textbook being the only place with a clear mention of Manipur and its capital Imphal. Twenty years later, when I finally got the chance to explore this 'gem' of a state, I was thrilled to lap up the adventures.
A group of five, we were warmly welcomed by her local guide, Rajib.
Our first stop was the Sadu Chiru Waterfalls, but as someone has rightly said, 'Sometimes, the journey is more beautiful than the destination.' The lush green paddy fields glistening in the rain with little hillocks in the backdrop exuded an untouched, rustic charm. The waterfalls require brief climbing, and make for a nice scenic spot.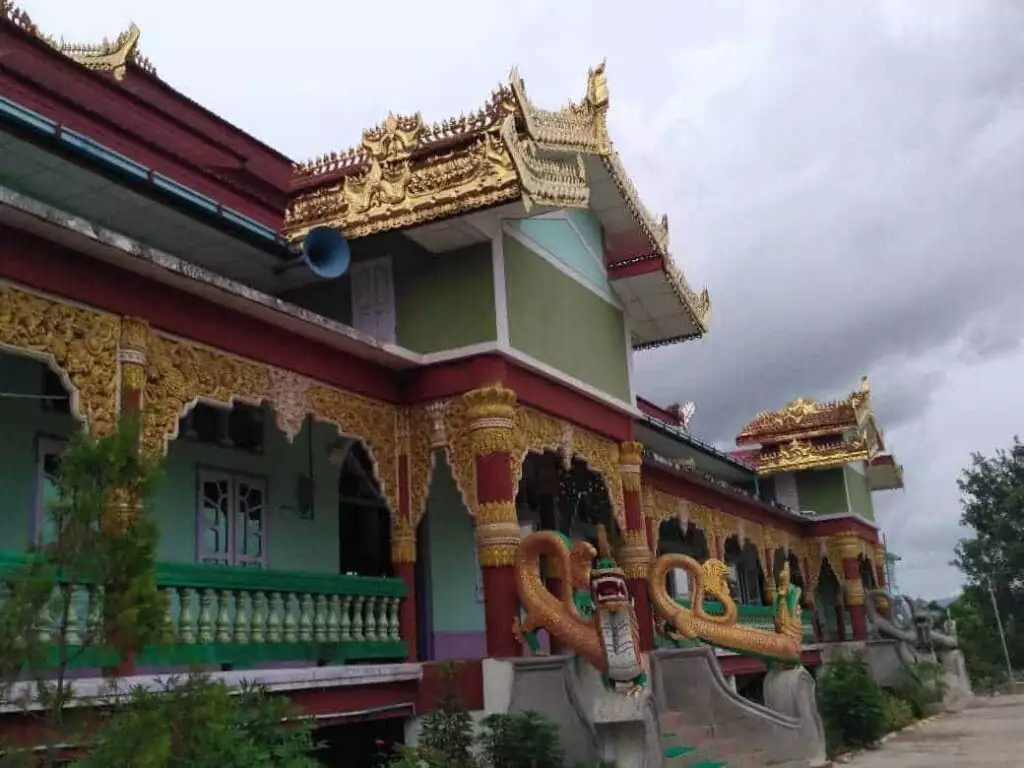 Later, on our way to Moirang, we were fortunate to witness a gorgeous pink sunset interspersed with clouds. Keep your eyes wide open and camera handy as the road journeys here will provide you with some of the most picturesque views.
After a long day of travel, we were glad to arrive at the Classic Sendra Resort, offering spectacular views of the Loktak Lake, famous for the floating biomass called 'phundis'. The resort is a small property providing basic facilities, but each of its five rooms has a restful and calming ambience, perfect for a getaway. You can enjoy an early morning walk there. The food, prepared on prior order, is homely and delicious.
A quiet boat ride through the sublime Loktak Lake itself makes your trip to Manipur totally worth it. Morning is a good time to soak in the experience, when you can see the local fishermen cast their nets.We were provided with a life jacket and a conical Manipuri style hat to offer protection from the sun and rain.Rajib made it all the more special by taking us to this little homestay, the first ever built on a 'phundi', where we enjoyed some 'chai' and played with the frolicking kittens.

Next was the INA Museum, where the tricolour was hoisted for the first time on Indian soil. It provides a detailed insight into the freedom struggle under Subhash Chandra Bose, his contribution to Indian Independence and other snippets from his life until his disappearance. Niche in its display, the museum certainly demands a visit.
The second day had much in store for us as we visited the Keibul Lamjao National Park and watched a cultural performance post lunch. With the distinction of being the only floating sanctuary in the world, the park is home to the brow-antlered 'Sangai' deer found only in Manipur. Not visible to the naked eye, we were provided binoculars to get a view of this rare species. I first spotted one among many and then there were two, whose antlers were clearly visible. The entire stretch of the park seemed nothing short of a Masai Mara! Afternoon is a good time to visit the park as chances of sightings are higher.I'd recommend an exciting boat ride along this narrow stream of the park clearly visible from the viewing area.
During the cultural performance especially organised for us, we had the pleasure of watching a 13-year-old strum music on the 'pena' (Manipuri instrument), savouring the traditional dance and witnessing a wrestling competition. The highlight was the part wherein we were asked to energetically join in the dance and later, dress in the dance costumes and get clicked. It was a memorable evening indeed, one without which our trip to Manipur would have been rather incomplete! Do make it a point to soak in their unique cultural experience.We spent the night at Classic Hotel Imphal, housing luxurious rooms and a very hospitable staff. There are two good dining options there as well, a café and a restaurant, serving multi-cuisine fare.
The next morning, we were driven to the Indo-Myanmar border town of Moreh, around three hours from Imphal. The roads aren't that great and it is here that you wish the government invests more time and money in maintaining the infrastructure and seriously promoting tourism. At Moreh, once you pass through the Indo-Myanmar Friendship Gate, you are given a day's pass to enter the country. Make sure you are back in time as the last exit back to India is at 5 pm. The Nanphalong market in Myanmar is like any other local market bustling with people. At Tamu town, you will find an assortment of fruits of which we relished the dragon fruit and red grapes.The main attraction here is a monastery where you can spend some time in solitude. We also got a chance to try some Burmese food. We had to cut short our trip to Tamu as we were running out of time. A local later told me that the market is popular for gold and rubies. So do spend some time there at leisure.

The overnight stay at Hotel Elora Moreh gave us enough rest to prepare for the day ahead. The hotel is very basic and probably the only one there. In terms of food and even otherwise, the staff do their best to provide guests with whatever possible.
The highlights of the fourth day were Kangla, RKCS Art Gallery and IMA Market, each of which is absolutely unmissable! Previously a seat of power of the Manipuri kings, Kangla houses many a delight for visitors. Namely, the Kangla-sha, the Pakhang-ba, the museum, the remains of the original Govindajee temple and a stunning moat which instils in you a sense of calm. Our guide at Kangla, a young, chirpy Manipuri girl, drove us around in a rickshaw and we enjoyed the ride coupled with the banter. Once done, you may choose to grab a bite at the café in the premises. I would definitely recommend spending a few extra hours at Kangla, simply relaxing amidst the greens.

The RKCS Art Gallery is yet another hidden jewel in Manipur that you mustn't miss.A private art gallery showcasing the works of eminent painter, late RKCS, it has been restored by his son who is a skilled artist himself. The bright canvases bring alive the rich history and culture of the state. The State Museum is also highly spoken of by locals.However, we didn't have time for that.

Though a bit tired, the lure of picking up a souvenir or two brought us to IMA Market, a 500-year-old market run entirely by women. At first sight, it may not interest you as much, but as you dig deeper (and every woman will), you will find lovely little items like stoles, mufflers, 'dupattas' and bags bearing the traditional weaves. If you are experimental (like my mum), you can go for the Manipuri half-sari and sarong style skirt, that are aplenty there. A little bargaining and voila! you have a handful of gifts to take back home. You can easily pick up a number of lovely souvenirs within Rs 1,500 to Rs 2,000. Make sure you are there latest by afternoon as the women start wrapping up for the day by 6.30 pm.
On our day of departure, we headed to a private weaving centre, a small farm of sorts, where we were shown the various stages of weaving and then the final fabric and outfit. The place had a beautiful countryside feel and we only yearned for some more time there! Later, we tucked into the delicious local cuisine, a vegetarian thali, at Luxmi Kitchen, a popular eatery in the city. Our itinerary was planned by Julie Kagti of 'Curtain Call Adventures'."


Anushree  enjoys writing, particularly about food, and cooking. She has worked as a journalist with Hindustan Times and Deccan Herald. She is starting a food blog and her own little home catering venture. Based in Bangalore. Images are all her own.