When it's time to travel to a new destination the eager anticipation to try novel activities and cuisines is for me one of the most wonderful things in life. A market visit to visually feast over the local vegetables, flowers, sample the indigenous fruits and meals in little eateries are definite features in most of my travel itineraries.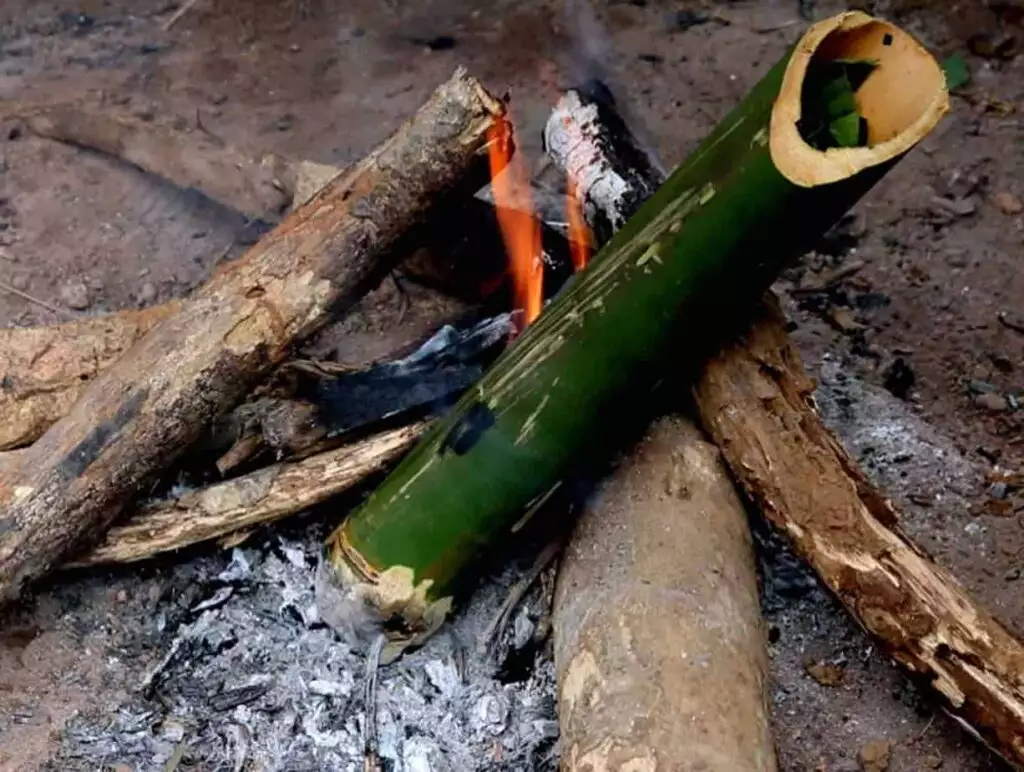 As part of our Armchair Travel series, connecting to the spirit of travel we spoke to Nambie Marak of 'Eat Your Kappa' a You Tube channel that showcases cuisines from the northeast of India.The step by step instructions and use of easily available ingredients makes this channel a must watch for foodies. She is a native to the scenic Khasi hills of Meghalaya and currently lives in Chennai. While she adores the South India fare, she still craves for dishes from her homeland. Nambie talks viewers through the process and shares her recipes collected from different parts of the region on her channel quite regularly.
"Axone, bamboo shoots, male papaya flowers, silk worm pupae, fermented fish, dried Roselle sepals or lye obtained from ashes of burnt bamboo might not have been heard of as food ingredients outside of the northeast. Definitely not highlight food ingredients in the context of mainstream Indian cuisine. " says Nambie.
However these condiments are considered essential in millions of tribal households across the northeast of India. The countless tribes of this region have their own unique food culture but share similarities with each other – fun loving, simple hearted, belonging to hardworking agrarian societies.
"Most of the rural tribal population are generally frugal eaters," continues Nambie "Our food is usually a serving of steamed rice with boiled vegetables and few pieces of meat. It has no glamour quotient as seen in the mainland with lots of garam masala and oil."
"We don't mind loosening our purse strings when it comes to festivals. We go way overboard during the celebrations. Religious and cultural festivals are big out here. Elaborately prepared, sumptuous meal with all kind of fruits, vegetables and meats."
"In most of the northeast fish and pork are preferred over other meats, the feasts are incomplete without them. "
Following are two recipes that you could try at home with ingredients that are accessible to everyone.
Vegetarian recipe
Mashed Potatoes with roasted Pumpkin Seeds and Asiatic Pennywort
A quick and easy mashed potato recipe with roasted pumpkin seeds and Asiatic Pennywort. This recipe takes just minutes to make and is very healthy as the pumpkin seeds are loaded with omega 3 fatty acids and the pennywort is full of medicinal properties.
This goes really well with rotis (type of Indian bread) or as a side dish to steamed rice.
Ingredients
3 – 4 medium sized boiled potatoes
2 onions
Handful of Pumpkin seeds
A cup of Asiatic Pennywort
Salt to taste
Method
Roast the Pumpkin seeds with its shell on, without adding any oil, on a pan till they are golden brown. Keep the Pumpkin seeds aside and allow it to cool.
Once the seeds cool down,hand-pound the pumpkin seeds into coarse powder.
Finely chop the onions and pennywort
Mash the potatoes to a smooth texture
Add in the finely chopped onions, pennywort, pounded pumpkin seed and salt to the mashed potatoes and mix well.
Adjust the salt as per your taste if required.
Serve as a side to your meals.
Fish Recipe
Steamed Fish in Banana leaf
Steaming fish by wrapping in banana leaf is something that is quite commonly done in the northeast. Any kind of small river fish can be cooked using this method. Usually carp fishes like Rohu, Catla, Mrigal or Grass Carp are used. The marinate for applying on the fish can be prepared in many different ways and goes particularly well with fish that have a delicate flavour.
A marinade of pounded onion, garlic, ginger and green chillies is applied to the cut and cleaned fish and wrapped in layers of banana leaf and left to cook over a charcoal fire or a pan at low flame.
The fish cooked this way is succulent, juicy and delicate in taste.
Ingredients
Small or medium sized fish gutted and cleaned
1 Onion roughly chopped
5-6 Cloves of garlic
1 inch piece of ginger
5-6 green chillies
Salt to taste
Method
Wash fish, and drain thoroughly. Keep the fish aside. (you can use the whole fish or if the fish is big in size, cut it.)
Pound the onion, garlic, ginger and green chillies to a coarse paste along with the salt.
Clean banana leaves with a damp cloth on both sides, dry and pass over open flame to make them flexible (take care not to burn the leaves). (*instead banana leaves, foil can be used)
Apply the paste on the fish evenly and give it a gentle rub.
Place the fish at the centre of the banana leaf and fold to form a parcel. Secure the parcel with cotton string or banana fibre. (Make sure you have at least 4-5 wrappings of the leaves on each parcel)
Cook fish parcel over a charcoal fire or on a pan with a heavy lid on top (it can also be baked in an oven preheated to 180″C) for about 15 minutes, turning them from time to time for even cooking, till the first few layers of leaves chars.
Once done, open parcel and empty the contents into a bowl and serve it with steamed rice.
All images and recipes are provided by Nambie Marak. Her You Tube channel is eat your kappa.