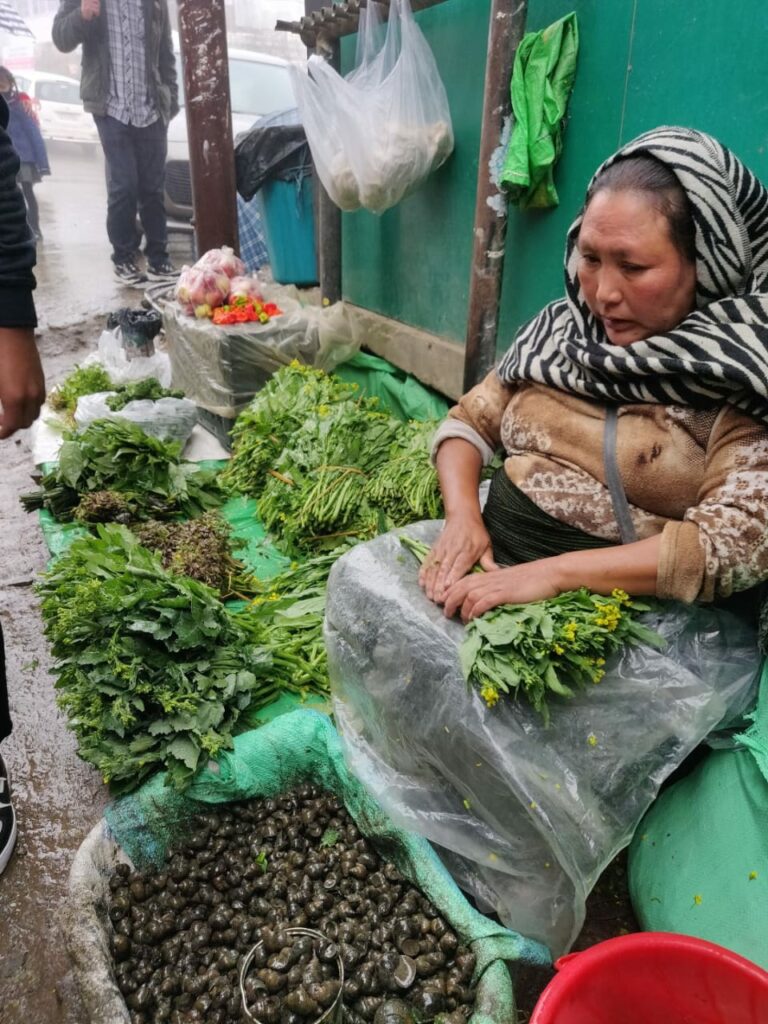 Nagaland may be best known for its Raja mirchi or King Chilli – it features among the five hottest chillies on the Scoville Heat Units list – but there's a lot more to this north-eastern state than this red hot chilli pepper. A recently released book, Herbs and Spices of Eastern Nagaland, published by the Department of Underdeveloped Areas DUDA), highlights the countless herbs, roots, spices and leaves used by the local tribes for both culinary and medicinal purposes. Collated and written by journalist Kallol Dey, the book focuses on the herbs and spices used by the tribes in eastern Nagaland – Chang, Konyak, Khiamniungan, Phom, Sangtam and Yimkhiung. 
Nagaland is best known for its Raja mirchi or King Chilli – among the five hottest chillies on the Scoville Heat Units list
Dey writes, "With a staggering variety of leaves, roots, stems and barks from plants either organically cultivated or indifferently growing in the wild, the Eastern Nagaland food recipes may read like a botanical index. Gastronomy of the Eastern Naga tribes – seven tribes spread over six districts – is by and large similar, the herb, spices and condiments used identical, barring a handful of species that are limited to certain specific areas." What is also interesting is the fact that eastern Nagaland, part of which shares borders with Myanmar, is a land still largely untouched by agro chemicals. Long before farm-to-table became an avant garde concept for restaurants around the world, for the Nagas it is a way of life. It's still common to find villagers casually foraging greens and herbs from their backyards – many of which aren't known to people outside the state. As Dey also points out in the book, the abundance of organic herbs in the kitchen, the roadside vegetables and even in the culinary conversations belies the reputation of Nagas being purely non vegetarian.
Another interesting aspect is the prevalence of folk medicine in the villages of eastern Nagaland. "Their knowledge of the herbs used as medicine have been passed down from generation to generation and continuously inherited making it almost a cultural trait," Dey says in the book. When the Covid-19 pandemic turned our world upside down and modern day science was found grappling to control the spread, Dey talks about how the village elders in Mon, Tuensang or Longleng swore by some herbal concoction as the answer to corona. "An elderly Konyak Naga narrates how locals in Mon took to drinking a concoction made of Makat (a variety of Zanthoxylum), jeangha (local ginger), salt and water to fight the spread of Covid-19. And according to the locals it worked wonders," Dey writes.
From stomach ulcers to infertility in women, each village has its own magic herb to treat ailments. With the abundance of herbs, folk medicine continues to remain a primary mode of healthcare in eastern Nagaland especially in its villages.
The book highlights some of the more commonly used and treasured spices and herbs of the region. Here's a look at seven such ingredients as highlighted in Herbs and Spices of Eastern Nagaland.  
Naga black and white sesame
After the Naga King Chilli, sesame is probably one of the most favoured ingredients in the Naga kitchen. "It leaves a lingering, crisp taste and is often used in dishes combined with other fresh and dried herbs, native fish or dried meat," Dey notes. The Naga black sesame cultivated here is different from that found in other parts of Nagaland. The locals not only use the oil extracted from sesame in cooking, ground sesame powder is also consumed mixed with black tea.
Sharing a recipe for Naam Shik, a sesame based delicacy made by the Chang Nagas, Dey writes, "Sesame is heated on a frying pan on moderate heat, till it turns golden brown and then gently smashed after cooling. The sesame is then added to water in a cooking pot along with dry chillies, tomato, salt and cooked for one hour. Then sliced brinjal is added. Ginger is added at the last stage of preparation for flavour."
Nutgal or Chinese Sumac
The multi utility sumac powder known by various names is another star of the Eastern Naga Kitchen. Characterised by large clusters of red berries, it is considered a powerful anti-inflammatory spice. Packed with antioxidants, it is believed to neutralise free radicals that can cause cancer, heart disease and signs of ageing. This medicine cum tastemaker is a staple in every household. The sumac berries are sun-dried and ground. The spice is used in cooking mushroom or wild meat as a tastemaker, but more significantly to mitigate the chances of food poisoning. It is also used to treat digestive elements and allergies.
Sichuan Pepper
Neither a pepper nor a chilli, this mouth-numbing spice is produced from the husks of seeds of two species of the prickly ash shrub which is in the rue or citrus family. The pinkish red husk around the seeds are used for the Sichuan peppercorn spice, while the inner black seed is discarded. The Sichuan pepper can stimulate the immune system to reduce pain, boost appetite, increase blood circulation and reduce inflammation.
Naga Ginger
The local ginger used in Naga cuisine is spicy, aromatic and different from the common ginger. Some varieties are too strong to suit the palate and used for medicinal purposes only. Besides the regular local ginger which has been seeing a growing demand from outside markets, they also grow varieties of blue ginger and black ginger.
Lathsa (Fish Mint)
A medicinal and edible herb with an aromatic smell, lathsa has long been used to treat pneumonia, hypertension, constipation and hypoglycemia via detoxification and reduction of heat, etc. The Sangtam Nagas use it for stomach ailments and menstrual cramps. As the world was grappling with the Covid-19 pandemic, the Chang Nagas turned to their trusted fish mint (known to them as Keiliam). Most potent eaten raw, and also used in preparing chutney, this herb, the Chang people believe, protected them from Covid. Keiliam literally means dog fleas. It is so called because it grows in plenty without planting. It is used as a remedy for joint pains, blood pressure and even indigestion.
Putuko (Culantro)
Wild coriander or culantro is used as both a culinary and medicinal herb. It is preferred over the common coriander varieties found in the market. The plant is rich in calcium, iron, carotene and riboflavin and its leaves are widely used as food flavouring and seasoning for meat and many other foods. It's also used to treat flu, diabetes, constipation and fever.
Ngounam
This herb holds immense significance in Chang Naga folklore and culture, besides its use as a medicinal herb. In Chang folklore, the whole world was plunged into darkness for three days and nights. The darkness was so intense that it was considered as Nakshou or the mother of all darkness. It lifted only after a man killed a double tailed tiger. In order to celebrate the victory, the Chang forefathers started celebrating the festival symbolising the conquest of darkness by light or victory of good over evil. During the period of darkness, it is the Ngounam that kept the people safe. The villagers put Ngounam leaves in their houses to ward off evil spirits. The womenfolk used to put the Ngounam in their ear piercings to keep evil spirits away. As a medicinal herb, it is used to stop nosebleed brought about by sunstroke.
Excerpts courtesy Herbs and Spices of Eastern Nagaland