While we were all too excited for our Manipur trip, the only thing we were a bit skeptical about was the food, what with all of us being vegetarians! However, our travel planner, Julie Kagti, assured us that we wouldn't go hungry for we would be served most of the regular fare from back home along with a few Manipuri delicacies.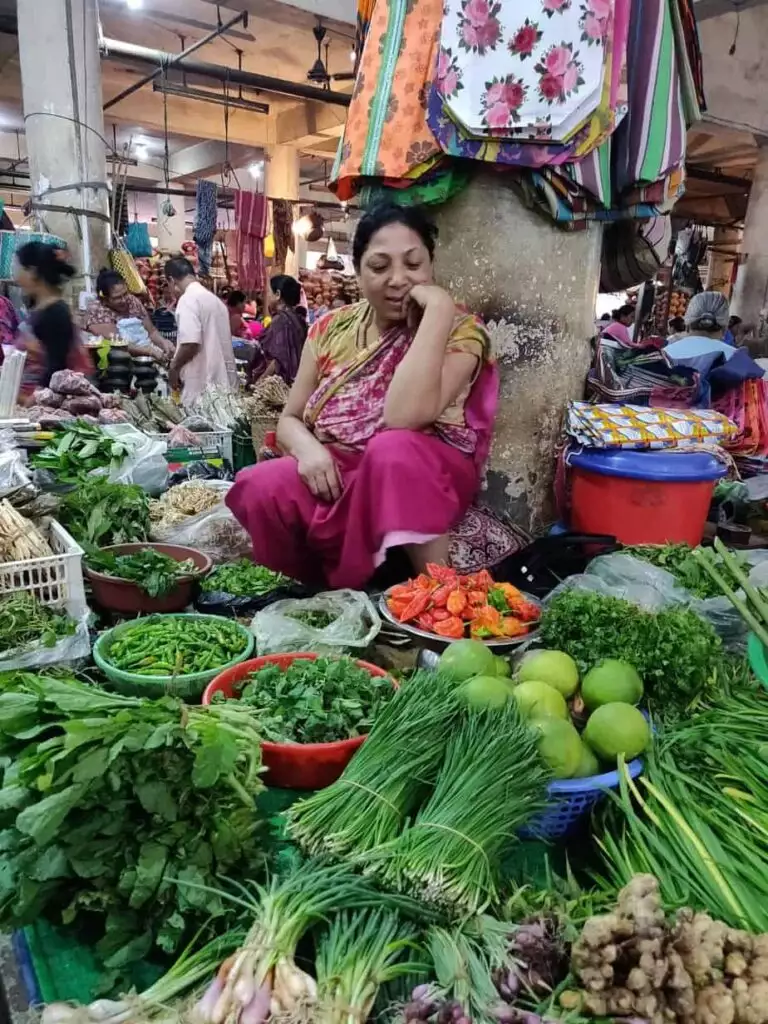 Our welcome basket had a variety of fruits like mini bananas, apples, pomegranates and the not-very-common lotus seed fruit.
Our first accommodation, the Classic Sendra Resort in Moirang, slightly secluded from the main town, promised well-cooked, basic meals. Lunch and dinner comprised items like yellow dal, 'jeera aloo', a paneer dish, rice and 'tawa rotis'. Breakfast was a delightful spread of omelet, toast, a delicious potato curry with 'puris', 'poha', cut fruits, juices, tea and coffee. The potato curry is one of the best I've had – replete with local greens, with its own unique flavor of spices. Being a vegetarian, I was taken by surprise as I hadn't expected much.
The only thing absent from our meals, in general, was curd. But Julie had told us in advance that yogurt is not usually eaten in the North East.
Meal time look forward to the yellow dal which has a lovely earthy flavor to it. However, keep in mind the timings – Manipuris like winding up early so try keeping your last order latest for 9.15 pm. Or simply order everything in advance and ask for room service.
The Indo-Myanmar border town of Moreh is a very small place and Hotel Elora is probably the only place to stay there. But that doesn't dampen the enthusiasm of their staff – they do their best to provide you with whatever is available in the area. They gladly obliged to our request for 'pakoras' during tea and laid out a simple yet tasty spread for dinner, and breakfast the following day.
In Myanmar, we had a soulful meal at a local eatery, with some steaming hot 'n' sour soup and sweet 'n' sour veg noodles which, according to them, was the 'kau suey' that I ordered. If you're a meat eater, you are spoilt for choice! And yes, don't forget to pick up some red grapes and dragon fruit from Tamu town. IMA Market in Imphal also has a display of peculiar fruits and vegetables.
Our farewell meal was at Luxmi Kitchen, famous for its vegetarian Manipuri 'thali'. Though hesitant at first, we dug into the meal only to find it really flavorful and filling. The major dishes that I can recall included an appetizing drink somewhat like 'aam panna'; a slightly sweet paneer preparation; black-eyed beans in a tomato gravy; dal; a pungent chilli mustard pickle; a thick variety of rice and 'kheer'. Mustard, in my opinion, tends to be the dominant flavor in Manipuri cuisine.
Paddy being the main crop, rice is the staple food of Manipur We were told that apart from making baskets, bamboo is also widely used in the food.
Lastly, do try the 'momos' there if you get a chance. I say it from experience – the Tibetan style momos in Sikkim are one of the best I've devoured. I don't think Manipur will disappoint either!
The north east has a wide of vegetables the aren't available in other parts of the country. Especially greens which are stir fried. Fiddlehead ferns and lai saag when in season are used as a side dish or even added to a curry . We highly recommend a visit to a local market to see the all the local produce that is offered.
With Inputs from Anushree Agarwal.